Welcome to Cornerstone's Rehabilitative Pilates program providing one-on-one private Pilates sessions with a certified instructor.
How does it work?
It is a non-impact exercise focusing on the deep muscles of the spine and abdomen.
Strengthening the abdominal muscles stabilizes and protects the lower back, reducing injury and improving spinal health.
Muscles become longer and more flexible as they get stronger
No impact means safer and more comfortable exercises, and less joint stress.
Our bodies are unique, so our customized, one-on-one Pilates workouts are designed specifically for your individual needs.
Pilates gives you a stronger body that is balanced, agile, and can better handle the stresses and strains of life.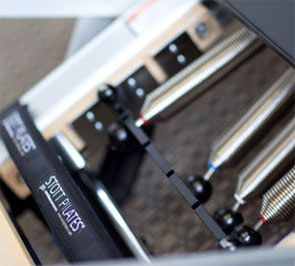 Is Pilates similar to Yoga?
While both encourage a mind-body connection, significant differences do exist. Yoga has more of a meditative quality, as the body moves from one static pose to the next during exercise. Pilates flows through a series of movements that are more dynamic, and anatomically based, while also using resistance equipment.
Can I still do Pilates with an injury?
Not only can Pilates be a safe activity for individuals who are injured, it can help the recovery process. Our programs are tailored to address specific injuries, so you get the best exercise for your needs without stress and strain.
How do I know if Pilates is right for me?
We customize programs based on physical needs so Pilates can benefit nearly everyone. It can maximize your fitness whether you're a high-level athlete or a less active office worker. If you have a specific injury, an assessment from one of our physiotherapists may be helpful prior to starting your Pilates program.
Do you use special equipment?
A variety of equipment including bands, balls, poles, boxes, mats, and the reformer (specialized resistance machine) may be used.
What do I need to bring?
Any equipment that you may require is available at our clinic. Please wear appropriate exercise attire that allows the instructor to see your alignment and correct your form.