Why Cornerstone for my custom knee brace?
Our bracing specialists are all registered physiotherapists. We are rehabilitation professionals that understand how knees function independently and as a part of the leg and body. Cornerstone physiotherapists are experts in the injury and recovery process, and how your knee problem fits into your work, play, and life. We are also trained to identify conditions that don't require custom bracing, and can suggest treatment alternatives in that case.
As well, at Cornerstone we ensure your brace continues to serve your needs. If you have issues with the fit, questions about how and when to use the brace, or any other concerns, we'll gladly answer your questions and find solutions.
What is a custom knee brace?
Custom knee bracing can be a simple and effective way to reduce pain, prevent injury, and resume your activities. It is the most effective way to both stabilize and protect the knee joint. A custom knee brace is a medical appliance that is manufactured based on precise measurements of your leg, and tailored for your specific injury.
The brace is made from a combination of composite materials and polymers, or aerospace grade aluminum, making it both lightweight and extremely durable. "Custom" means your brace conforms with your knee intimately, ensuring a consistent level of protection and comfort without any significant loss of mobility.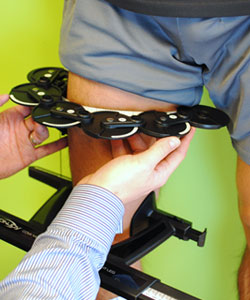 We offer braces manufactured by Donjoy and Breg, which are the top two brands in the industry.
What conditions can custom bracing help?
Ligament injuries of the knee (ACL, MCL, LCL, PCL)
Osteoarthritis (OA) of the knee
Knee instabilities
How effective is custom knee bracing for osteoarthritis (OA) of the knee?
In the majority of cases, very effective! Research has shown that more than 70% of patients with OA of the knee report significant improvements in pain, a reduction in pain medication, and increased activity levels when using a custom knee brace.
Ref:  Barnes CL et al.  American Journal of Orthopaedics 2002 Jul; 31(7): 396-401.
Can I use my knee brace for physical activities?
Absolutely. Many of our patients have continued to participate in regular exercise and recreational activities, such as golf, hiking, tennis, and gardening, thanks to the custom knee braces we've fitted them with. Our braces are also contoured to fit easily underneath most types of clothing, including athletic wear.
Will my brace be covered by insurance?
Your brace may be covered if you have extended health benefits. Contact your insurer, as coverage details may not be specifically outlined in your benefits package. A prescription for a knee brace may be required from your physician, so you may wish to obtain this prior to arriving at Cornerstone for your bracing appointment. We invite you to call our clinic at (416) 595-5353 so we can guide you through each step of this process.
How do I know which brace is right for me?
A registered and experienced Cornerstone physiotherapist will work with you to assess your knee problem and activity level, and help determine which brace is ideal for your specific situation. Every patient is unique, so we are pleased to offer a variety of bracing options.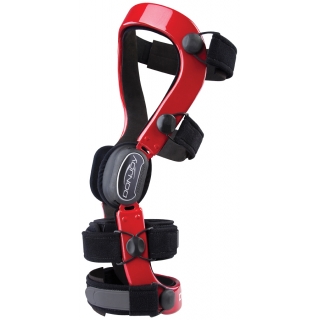 Defiance III OA
The Defiance III OA is fully custom knee brace that is incredibly light-weight and durable, suitable for patients with moderate to severe degrees of osteoarthritis.It features a patented telescoping condyle pad which puts the load control in the hands of the patient. Perfect for patients with active lifestyles or athletes alike.
---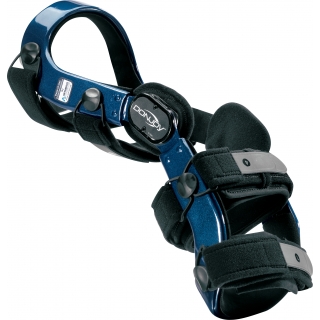 Defiance III
This is Donjoy's flagship custom knee brace for ligamentous injuries.The Defiance III is the strongest of Donjoy's functional knee braces and perfectly suited for both the recreational athlete and competitive high-impact sports participant. It is made of a carbon-fibre composite that makes it light-weight and low profile, and can be made with more than 40 colors and designs.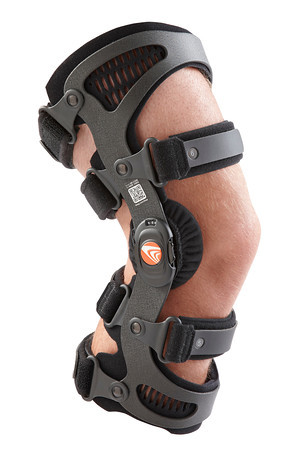 Fusion OA
The Fusion OA is for patients suffering from medial compartment knee osteoarthritis wishing to resume regular activities. Both sleek and light-weight, it off-loads the medial compartment while also providing medial and lateral support.
---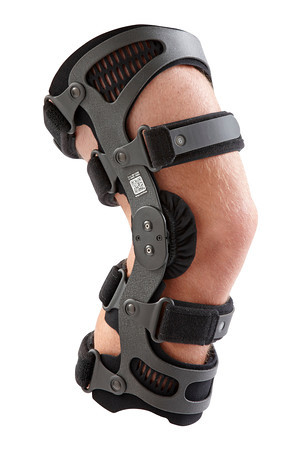 Fusion XT OA
The Fusion XT OA is designed for OA patients who participate in high-impact activities. This brace features a high-strength frame that utilizes Breg's standard adjustable hinge design for maximum durability.