Vestibular Rehabilitation (treatment for disorders of dizziness)
Dizziness and vertigo are among the most common reasons why people see their doctors. Often medication is prescribed that may or may not help, MRIs or CT scans are negative, or patients are sent to specialists only to be told that nothing can be done.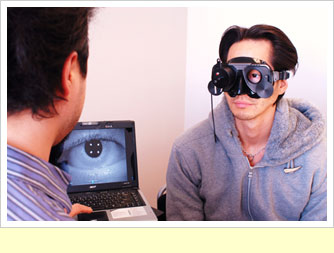 We can help
Many of these problems come from a dysfunction of the vestibular organ, which is a small but important structure in your inner ear that is critical for balance, coordination, and movement. When the vestibular organ is impaired, patients can experience spinning (vertigo), dizziness, nausea, imbalance, and light-headedness, among other symptoms.
Cornerstone Physiotherapy is one of only a very few centres providing research-based assessment and treatment services for vestibular disorders using infrared goggle technology. Since your vestibular organ and eye reflexes are intimately connected, close examination of abnormal eye movement (nystagmus) allows us to accurately detect the specific type of problem. Once an accurate diagnosis has been made, treatment becomes relatively simple.
What types of dizziness can you treat?
We provide assessment and treatment for the following:
What does treatment involve?
Treatment sessions typically involve manual hands-on treatment, an exercise program, or a combination of both. Please do not try treatment on your own if you have not been properly diagnosed, as this may actually make your condition worse. Generally, most patients only require 1-3 treatments to correct most vestibular disorders.
Will my insurance cover this?
Since a physiotherapist provides this service your treatment will be covered if you have physiotherapy benefits.
Do you treat using the Epley manoeuvre?
Yes we can. However the Epley manoeuvre is only one of several manoeuvres that may be essential for your recovery. Our detailed assessment allows us to determine the cause and location of your vestibular disorder and then the appropriate manoeuvre or treatment can be applied. Performance of the wrong manoeuvre or if it is done incorrectly may result in a worsening of a vestibular condition.
Additional information about the anatomy, causes, treatments, and prognoses of vestibular disorders can be found at www.vestibular.org