At Cornerstone, we're specially trained to pinpoint conditions that may benefit from a custom knee brace. We are experienced in the measurement and fitting of many types of braces including the popular DonJoy Defiance III. 'DonJoy' is a global leader in prescription orthopaedic braces and has an excellent reputation in the medical community.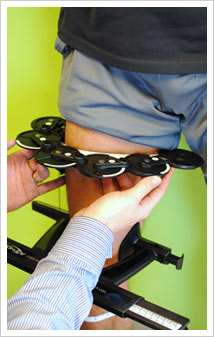 What is a custom knee brace?
Our braces are manufactured based on precise measurements of your leg and your specific knee injury. This ensures your brace fits you perfectly. The brace is made from a combination of composite materials, making it both lightweight and extremely durable.
What conditions can custom bracing help?
Will my brace be covered by insurance?
Your brace may be covered if you have extended health benefits. Often a prescription is required from your physician first, so you may wish to obtain this prior to arriving for your bracing appointment. We invite you to call our clinic at (416) 595-5353 so we can guide you through each step of this process.